How to Identify and Discuss Your Strengths and Weaknesses in a Job Interview?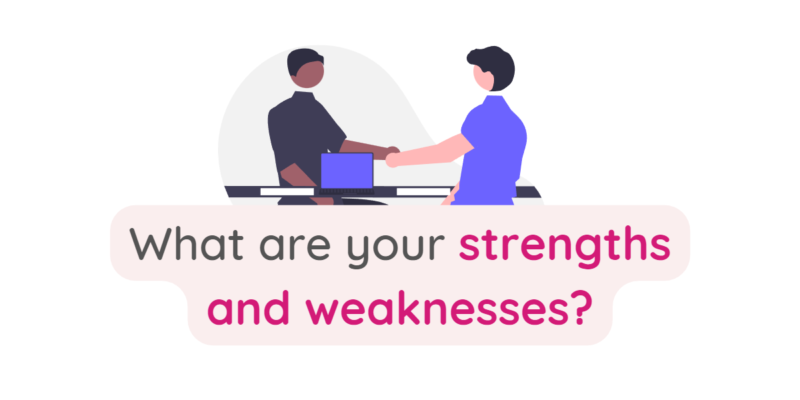 One of the most common questions asked during a job interview is, "What are your strengths and weaknesses?" This question is intended to provide the interviewer with insight into your personality, work style, and approach to challenges. Being able to effectively answer this question can make or break your chances of getting the job.
We will discuss how to identify and discuss your strengths and weaknesses in a job interview in this article.
Identifying Your Strengths
Take some time before your interview to identify your strongest points. This can be accomplished by reviewing your previous experiences, accomplishments, and feedback from others.
Here are some questions to think about when determining your strengths:
What do you enjoy doing the most?
What skills do you possess that make you stand out from others?
What accomplishments are you most proud of in your career?
What do others compliment you on?
What qualities do you possess that are essential for success in your field?
Once you've identified your strengths, consider how you can effectively communicate them to your interviewer. Provide specific examples of how you have previously demonstrated your strengths. For example, if strong communication skills are your strength, you could describe a time when you effectively communicated with a team to complete a project.
Identifying Your Weaknesses
Identifying your weaknesses can be more difficult than identifying your strengths. However, it is critical, to be honest with yourself and your interviewer about areas in which you need to improve. When identifying your weaknesses, consider the following questions:
What tasks or responsibilities do you find challenging?
What areas have you received negative feedback on in the past?
What skills do you lack that are important for success in your field?
What areas do you need to improve to advance in your career?
What do you struggle with the most in your current job?
When discussing your weaknesses in an interview, it is critical to demonstrate that you are self-aware and actively working to improve. Include examples of how you're working to overcome your weaknesses. For example, if public speaking is one of your weaknesses, you could describe how you have improved your skills by taking a public speaking course.
Tips for Discussing Your Strengths and Weaknesses in a Job Interview
Here are some pointers to consider when discussing your strengths and weaknesses during a job interview:
Be truthful and genuine. Don't try to pretend to be someone you're not.
Focus on your strengths, but also discuss your weaknesses.
Give specific examples of how you have previously demonstrated your strengths.
Demonstrate that you are working hard to improve your weaknesses.
Avoid cliche responses like "my weakness is that I work too hard."
Here are 25 examples of possible strengths and weaknesses in a job interview:
Strengths
Strong communication skills
Leadership ability
Excellent time management skills
Creative problem-solving skills
Strong work ethic
Positive attitude
Ability to work independently
Attention to detail
Ability to prioritize tasks
Quick learner
Ability to work under pressure
Adaptability to change
Goal-oriented mindset
Flexibility in job responsibilities
Technical expertise in a certain field
Strong analytical skills
Strong customer service skills
Multitasking abilities
Self-motivated and driven
Interpersonal skills
Ability to work well in a team
Willingness to take on challenges
Good problem-solving skills
Able to work well in a fast-paced environment
Good decision-making skills
Weaknesses
Public speaking
Perfectionism
Time management
Overcommitting
Difficulty saying no
Lack of technical skills in a certain field
Difficulty delegating tasks
Procrastination
Attention to detail
Taking criticism too personally
Poor presentation skills
Being too critical of oneself
Difficulty in prioritizing tasks
Disorganization
Being too straightforward
Difficulty in working under pressure
Shyness
Difficulty in working with others
Inability to handle conflict
Being too emotional
Being too rigid
Struggling to accept constructive criticism
Difficulty adapting to change
Being too self-critical
Difficulty in accepting responsibility for mistakes.
Remember to be honest about your strengths and weaknesses, and provide examples of how you've worked in the past to improve your weaknesses or capitalize on your strengths. Best wishes for your interview!